Library Loot is a weekly event co-hosted by Claire from The Captive Reader and Sharlene from Real Life Reading that encourages bloggers to share the books they've checked out from the library. If you'd like to participate, just write up your post-feel free to steal the button-and link it using the Mr. Linky any time during the week. And of course check out what other participants are getting from their libraries.
Happy Wednesday. Oh boy, November is going by fast! Claire has the link-up this week.
What I got from the library this week: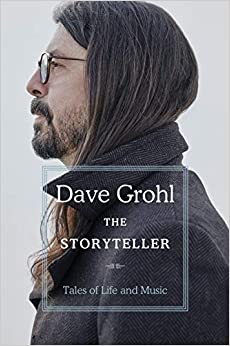 The Storyteller – Dave Grohl
So, I've written a book.
Having entertained the idea for years, and even offered a few questionable opportunities ('It's a piece of cake! Just do four hours of interviews, find someone else to write it, put your face on the cover, and voila!'), I have decided to write these stories just as I have always done, in my own hand. The joy that I have felt from chronicling these tales is not unlike listening back to a song that I've recorded and can't wait to share with the world, or reading a primitive journal entry from a stained notebook, or even hearing my voice bounce between the Kiss posters on my wall as a child.
This certainly doesn't mean that I'm quitting my day job, but it does give me a place to shed a little light on what it's like to be a kid from Springfield, Virginia, walking through life while living out the crazy dreams I had as young musician. From hitting the road with Scream at 18 years old, to my time in Nirvana and the Foo Fighters, jamming with Iggy Pop or playing at the Academy Awards or dancing with AC/DC and the Preservation Hall Jazz Band, drumming for Tom Petty or meeting Sir Paul McCartney at Royal Albert Hall, bedtime stories with Joan Jett or a chance meeting with Little Richard, to flying halfway around the world for one epic night with my daughters…the list goes on. I look forward to focusing the lens through which I see these memories a little sharper for you with much excitement.
Ah that good old fake boyfriend trope! I kept seeing this book everywhere. So I had put a hold on it, and the library gave me a "skip the line" loan for 7 days. Luckily it's probably a quick read.
The Love Hypothesis – Ali Hazelwood
As a third-year Ph.D. candidate, Olive Smith doesn't believe in lasting romantic relationships–but her best friend does, and that's what got her into this situation. Convincing Anh that Olive is dating and well on her way to a happily ever after was always going to take more than hand-wavy Jedi mind tricks: Scientists require proof. So, like any self-respecting biologist, Olive panics and kisses the first man she sees.
That man is none other than Adam Carlsen, a young hotshot professor–and well-known ass. Which is why Olive is positively floored when Stanford's reigning lab tyrant agrees to keep her charade a secret and be her fake boyfriend. But when a big science conference goes haywire, putting Olive's career on the Bunsen burner, Adam surprises her again with his unyielding support and even more unyielding…six-pack abs.
Suddenly their little experiment feels dangerously close to combustion. And Olive discovers that the only thing more complicated than a hypothesis on love is putting her own heart under the microscope.
This book sounds a bit like that movie with the giant mech, Pacific Rim. Love that it's a female main character.
Iron Widow – Xiran Jay Zhao
The boys of Huaxia dream of pairing up with girls to pilot Chrysalises, giant transforming robots that can battle the mecha aliens that lurk beyond the Great Wall. It doesn't matter that the girls often die from the mental strain. 

When 18-year-old Zetian offers herself up as a concubine-pilot, it's to assassinate the ace male pilot responsible for her sister's death. But she gets her vengeance in a way nobody expected—she kills him through the psychic link between pilots and emerges from the cockpit unscathed. She is labeled an Iron Widow, a much-feared and much-silenced kind of female pilot who can sacrifice boys to power up Chrysalises instead.​ 

To tame her unnerving yet invaluable mental strength, she is paired up with Li Shimin, the strongest and most controversial male pilot in Huaxia​. But now that Zetian has had a taste of power, she will not cower so easily. She will miss no opportunity to leverage their combined might and infamy to survive attempt after attempt on her life, until she can figure out exactly why the pilot system works in its misogynist way—and stop more girls from being sacrificed. 
I've been meaning to read this book for a while now.
The Marrow Thieves – Cherie Dimaline
In a futuristic world ravaged by global warming, people have lost the ability to dream, and the dreamlessness has led to widespread madness. The only people still able to dream are North America's Indigenous people, and it is their marrow that holds the cure for the rest of the world. But getting the marrow, and dreams, means death for the unwilling donors. Driven to flight, a fifteen-year-old and his companions struggle for survival, attempt to reunite with loved ones and take refuge from the "recruiters" who seek them out to bring them to the marrow-stealing "factories."